This is the definitive review of the best 12 Volt electric blankets in 2022.
Selecting the best 12V electric blanket can be a daunting task. There are so many different brands and models that it's hard to know which one is right for you.
I've spent more than 48 hours researching and finally handpicked the 10 best 12 Volt electric blankets, so you don't have to.
And I discovered that GREAT WORKING TOOLS Car Electric Blanket is the best overall 12V electric blanket for car trips and outdoors.
Not all blankets are the same. Each has its unique features and purposes.
Now in this 12v electric blanket review, I'm going to review each one so that you can make a more informed purchase decision.
Let's get started.
---
Our Best 12 Volt Electric Blankets
---
10 Best 12 Volt Electric Blankets Reviewed
All 12V electric blankets included in this list are guaranteed safe to be used as claimed by manufacturers or sellers of the respective product. 
If you're a Californian, you should do your due diligence to check if the blanket complies with California's Proposition 65 [1] before making the purchase. 
If you're looking for a top-notch heated blanket for your car trips, camping, or even therapy, the GREAT WORKING TOOLS Car Blanket works excellently.
What makes it outstanding is it heats up rather quickly and consistently. Some owners reported that it started getting heated within 30 seconds of turning it on.
So, it makes your body warm pretty quickly. Thanks to the excellent heating elements of the blanket.
The blanket is large, and its polyester fleece material is very soft. The heat and softness of the blanket undoubtedly provide you with great relief and warmth in the cold weather.
It has temperature control for you to choose whether high or low. It also has a standard timer (30, 45, 60 minutes) as a safety feature.
Like the RoadPro blanket, you also get a 96-inch long power cord. That's a good thing. Your family member or friends can use it from the back seat. 
It's hard to find fault with this blanket. It's soft, has outstanding heating elements, and it's washable too! I only wish the size could be bigger enough for 2 people.
Pros
Soft and thick fabric
Quick heat up
Able to control the temperature
Easy to wash
Cons
The blanket size could be bigger
---
The Reversible Sherpa blanket by Best Choice Products is not a typical 12 Volt electric blanket on the list. I do think it's still worth mentioning and considering.
It's essentially a throw blanket. It doesn't have a 12V socket for a cigarette power outlet in your car. But you can use it by connecting it to an adapter power charger port or directly to your power bank.
The blanket is made of mixed polyester and ultra-soft Sherpa fabrics. It's soft, cozy, and plush. You'll feel nice and warm but not too toasty when it's heated up. Just pleasantly warm.
You can choose 3 different temperature settings: low, medium, and high. It doesn't come with standard timer settings, but it has an auto shut-off feature after using it for 2 hours. 
This prevents overheating and protects your car battery from draining out.
The size of the blanket is pretty decent. Enough to fully cover your body.
If your blanket is dirty, you can wash this blanket with a washing machine. But there's a limitation. You should NEVER wash it more than 5 times as the manufacturer recommends.
The electrical wire is quite sensitive and prone to damage. It's best to spot clean if necessary.
Another common issue with this blanket is the heating element has a quality issue. Many complain the blanket stopped heating after a certain period of ownership.
But this blanket might be worth considering if you're a big fan of Sherpa fabric.
Pros
Quality Sherpa material
Reversible design
Breathable blanket even during warm 
Auto shut-off feature after 2 hours
Cons
Some quality issues with the heating elements
Pricey
---
What makes the Car Cozy car heated blanket different from the other electric blankets on our list is that you plug it into a 12V or 24V power outlet – whichever is available to you!
That makes this blanket a must-have for winter car trips or camping. It's also perfect for any vehicle with 24V cigarette outlets in the RV, truck, and boat.
As it can receive 24V power, you can plug it into portable power banks or connect it to a deep cycle battery for use away from a car. 
In terms of fabric, the blanket is made from soft flannel. It's thick, plush, and super cozy to keep you warm.
The blanket is pretty large and thicker. Once you plug the power cord into a DC power outlet, it takes a while to warm fully.
The blanket has an automatic 30 min, 45 min, and 60 min timer, helping you fall asleep without overheating throughout the chilly day.
You can't wash this blanket in the washing machine. Just spot clean it is enough to take care of this blanket.
So, is the car cozy heated blanket perfect for you? Well, if you're going to use an electric blanket for every climate, the answer is YES! 
The ability connects to 24V voltage makes it great for emergency car kits.
Pros
A cozy and soft blanket
You can choose either 12V or 24V outlet
It can be used with any portable power banks
Auto shut-off feature
Cons
It takes a while to heat
It can't be washed
---
If you are the type of person who easily gets cold inside the car, the Roadpro electric blanket can make your body warm and toasty.
It draws about 55 Watts of power. It heats the blanket quite fast as soon it receives the power. Once it's fully heated up, you can feel very hot.
The blanket is pre-set to reach a maximum operating temperature of 110F to 115F. It doesn't have auto shut-off or timer features, which is an obvious drawback.
But it will get the job done as long you never forget to unplug it when not in use. 
The blanket is pretty large and provides good coverage from neck to foot. It is the right size for you in the front. If you have 2 kids in the back, this blanket can cover their bodies well.
The blanket is made of full polar fleece material that keeps you nice and comfortably warm. It's warm enough even without power.
Many owners love to use this blanket as a mattress cover to sleep on it during outdoor camping activities.
The blanket easily gets dirty due to the material used. You can't throw it into the washing machine. So, spot cleaning will do just fine to remove the dirt.
Pros
Soft and warm material
Large size
Long power cord
High-temperature range
Cons
Does not have temp control
It can only spot clean
---
The Stalwart blanket is big enough without being too big and bulky. It is the perfect size to cover your body. If you're traveling with your toddler, this blanket is what you need to cover both of you.
The polyester fabric of this blanket is soft and cozy. Even during the summer, it will make you feel nice and warm without plugging it into the power sources.
And speaking about the warmness during the cold seasons, you can simply plug it in, and it will take several minutes to heat up. 
It pulls about 48 Watts of power. When it gets fully heated up, you can feel very toasty. 
Remember that this blanket doesn't come with an auto shut-off feature. You must unplug it whenever you are not using it. You don't want to let your car battery die because you used it overnight!
If you have kids sitting in the back seat, the 96-inch power cord is long enough. It can reach from the dash power port to the back seat without problems. 
The Stalwart Electric 12 Volt Fleece Blanket is a perfect gift for your family. It's the least expensive electric blanket on our list. 
Pros
It's a large size
The soft and fuzzy material
Long power cord
Inexpensive
Cons
Does not have temp control
Warm but not hot enough for the very cold climate
---
If you're looking for a versatile blanket that can be used in a car and outdoors, the Sherpa fleece travel blanket by Zonetech should be on your shopping list.
It's a reversible blanket with a waterproof polyester layer and a super soft and fuzzy Sherpa fleece fabric. 
The waterproof polyester material keeps your body from getting wet just in case your drinks spill onto your blanket. Or maybe you're traveling on a boat; the blanket will protect you from water splashes while keeping your body warm.
The blanket has a heat control with an LED temperature indicator to monitor the current temperature at a time. It has a safety feature that will auto cut off after using it for 45 minutes.
You can set your desired heat level to low, mid, and high. If you set it to high, the temperature can reach 150ºF. 
However, there is one shortcoming. Many owners complain that the 45 minutes cut-off timer is too short. The temperature hardly reaches 150ºF as wanted.
Overall, the blanket is pretty large and super soft. You will surely like it. But don't expect to get the max heat of 150ºF.
Pros
I love the benefits of the waterproof polyester material
The LED temperature indicator looks cool
Large blanket
High-temperature range
Cons
Heat cut off too fast
The power cord is relatively short
---
Unlike other blankets, the Elantrip heated blanket excels in fabric construction. It has a quilted and reversible blanket design.
With a double-sided design: ultra-soft 220 GMS flannel material on one side and 170 GMS white and soft Faux Fleece on the other – you have 2 coziness options!
As it's a quilted blanket design, it also means that the blanket will easily get stains all over it. But worry not; it can be easily cleaned with a washing machine.
The blanket gets warm pretty quickly. You'll get 3 level heat adjustments. The temperature can rise to 50°C when you set it high. 
It doesn't have automatic control. So the blanket will always heat up if you plug it on. You don't have to bother about resetting the timer.
Many electric blankets have some issues with the electrical wires. But the Elantrip blanket is exceptional. Its electrical wires are well constructed and pretty durable against any rough usage.
However, the blanket has one major flaw. Many owners reported that the temperature thermostat can easily get damaged due to overheating—something you need to consider when purchasing this blanket.
Pros
Cool reversible design
Durable electrical wire
High-temperature range
Machine washable
Cons
Poor temperature controller quality
No auto shut-off features
---
Two remarkable things about the Sojoy iHealthComfort blanket are very plush-soft material and the best safety features.
Plug it into the power source, and wait for a couple of minutes; the soothing warmth from this soft flannel fleece fabric blanket will help maintain your metabolism and steady blood circulation.
The blanket has a very decent size that is enough to cover your body. So, you won't get too cold during the fall and cold seasons.
It's equipped with a thermostat, and it has three levels of heat settings and a timer – 30, 45, and 60 minutes. It will automatically turn off to ensure your battery doesn't get drained if you're sleeping.
The blanket is machine washable. You just need to detach the electrical plug from the blanket to avoid spoiling the cable.
On the negative side, some owners reported the reliability of the heat controller. It's easily burnt up.
Although it was just an isolated case, it's something you should be aware of when buying this blanket. 
Pros
Very soft and durable fabric
Great safety features
Machine washable
Inexpensive
Cons
The heat controller is not reliable
Only one color option (Navy Blue)
---
If you live in or travel to a freezing area, you need a perfect blanket to warm your body. The heated blanket by Maxsa should be on your list.
The blanket is large, cozy, and gets toasty warm pretty quickly. The polyester material is thick, soft, and comfortable adequate to keep your body and feet nicely warm.
The Maxsa heated blanket has two settings for shut-off time – 45 or 60 minutes. It must be reset after 30 or 45 minutes. 
This safety feature can solve the problem of draining your car battery out when accidentally being left on.
The blanket has a decent length of power cord. However, some owners complain they can still feel the wires through the blanket. 
It is a nice, comfortable, reasonably priced electric blanket for your next car trip, and take the chill off!
Pros
Safety timer features
Very soft and comfortable
Heats up quickly
Inexpensive
Cons
It's not machine washable
The wires quality could be better
---
What makes this blanket awesome is it heats up so quickly. If you get cold, just plug it in, and the heat will be evenly distributed across the blanket within 2 to 3 minutes.
If you're a person who easily gets cold or needs a comfortable blanket to stay warm when traveling, this blanket will keep you nice and toasty.
The blanket is relatively big. It's enough to cover two person's laps. If you're traveling with kids, they will be able to share it easily. The 79-inch power cord is long enough to reach the back seat for the rear passengers.
It has 3 settings so you can adjust the temperature to find the right fit. It also has a timer (30/ 45/ 60 minutes) that will auto shut off after a certain period.
The temperature controller comes with lovely indicator lights. But it's too small and hard to see, especially for older people.
The blanket is made of quality fabric from soft polar fleece. It's soft and cozy fleece, warm on its own. As it's not machine washable, you can spot clean easily.
The bottom line: the AMBOTHER Car Heated Blanket can be an excellent choice for an emergency kit and a lifesaver.
Pros
Quick heat up
Soft and cozy fabric
High-temperature range
Safety timer
Cons
The controller isn't easy to use for some people
It can't be washed
---
Guide To Buying 12 Volt Electric Blankets 
Choosing the best 12 Volt electric blankets can be an overwhelming process for some people. This type of blanket is usually much needed during the cold and winter seasons.
To guide you to find the right electric blankets for your car trips, here are the 11 things you should consider:
Size
Many heated car blankets come between 50 to 60 inches in length and 40 to 45 inches in width. 
This dimension is the perfect size for the car. Your kids will be able to share it easily on your car trip. 
However, some of them might not be able to cover your full body. But you will find that most of the blankets should be able to cover at least 80 to 90% of your body.
Just make sure you check the dimensions carefully before making your purchase. Ideally, 59 x 43 inches is the best size to choose from. 
Material
Polyester fleece is a popular choice for heated electric travel blankets. It is soft, lightweight, fuzzy, and warmer than wool. [2]
However, the most premium fabric is made from Sherpa. The Sherpa electric blanket has better insulation, quick-drying material, is lightweight, and is less bulky than fleece. [3]
The Sherpa material is warmer than the polyester fleece. Because of its excellent heat retention attribute, the Sherpa heated blanket is a great choice to consider. 
It will keep you warm whenever you unplug the power.
It doesn't mean that the polyester fleece fabric is less warm than the Sherpa. Both are great.
Temperature Range
You want to look for a 12V electric blanket with a set temperature range that can keep you and your family warm if the temperature drops at night or during the cold winter.
The temperature is measured either (or both) in degrees Celsius (°C) or degrees Fahrenheit (°F).
You will find that normally electric blankets have an operating temperature between 70⁰F to 115⁰F. Some quality blankets can reach up to 122⁰F.
This temperature range should keep you pretty nice and toasty. 
Adjustable Heat Settings
When choosing the best-heated travel blanket, I recommend you look for a blanket with adjustable temperature and heat levels.
It has many benefits and can make a difference. You can always find the right fit; it keeps you nice and toasty. 
The electric blankets with adjustable heat settings mostly feature 3-level heat control (low, mid, high). Some of them even have a timer.
Depending on the models, some low-temperature settings can control the blanket's temperature from 98⁰F to 100⁰F.
The medium temperature setting is between 100⁰F to 108⁰F, and the high setting can control the heat from 108⁰F to 122⁰F.
Dual Controls
Dual control is a feature that will help to adjust the temperature setting for each side of the electric car blanket. 
If you're sharing the blankets, especially with your toddler or baby, the dual controls allow you to set your temperature without affecting them.
There are two buttons on the switch. On-off button doubles as the temperature selection button. 
WARNING: Do not use the 12 volts heated throw on infants or anyone not capable of unplugging the blanket without assistance. Do not use the heated throw on anyone with a fever or who may be sensitive to heat.
Automatic Shut-Off (Safety)
Most electric heated blankets do not have automatic shut-off features. At the same time, some car heating blankets include an automatic shut-off as a safety feature in case of overheating.
Depending on your preference, having an automatic shut-off feature can have advantages and disadvantages.
The blanket with an automatic shut-off feature will shut off itself after a specified amount of time, i.e.30, minutes. The downside is that you must wake up and turn the blanket back on.
But if you want to use the blanket to keep warm all night, the electric blanket without the automatic shut-off feature is suitable.
You just need to unplug it when you're not using it. You don't want to drain your car battery and your car stranded in the middle of the highway.
Timer Settings
Generally, electric blankets that come with an automatic shut-off feature will also have a timer setting. 
Usually, they come with 3 different timer settings: 30, 45, and 60 minutes.
If you worry about overheating yourself or your children, this timer setting feature is a godsend.
Simply select the preferred timing on the controller or read the blanket manual on how to use it.
Power Consumption
The 12 Volt electric blanket typically consumes power from 45 Watts up to 55 Watts. They estimate about 4 Amps to 8 Amps.
How many watts does it draw?
When you set it to low, it consumes about 25 Watts of power. And about 50 Watts when set to high.
As you can see, it doesn't consume much power. However, you need to keep your car running to continuously charge your car battery.
I wouldn't recommend you to keep using the blanket when the car is shut off so that it won't pull a lot of power from the car battery. You don't want to hurt your battery.
Length of Power Cord
The length of power cord is typically between 70 to 96 inches long. You should have a problem plugging it into your car's cigarette 12 Volt power outlet.
In general, a longer power cord is always more useful.
However, there is a situation where you might find your electric blanket power cord is out of reach. That is when you're traveling in an MPV car.
Since this type of car has a longer size, someone sitting in the third row might have a problem plugging his or her electric blanket.
The length of power cord might not be long enough.
In this situation, you might consider the Cigarette Lighter Splitter Adapter Power Charger Port so everyone can use the blanket.
Machine Washable
It doesn't matter if your heated blanket is made of polyester fleece or Sherpa fabrics; it needs to be cleaned or washed.
Unfortunately, not all electric blankets are machine-washable. You need to check the manufacturer's recommendation, which can usually be found in the product manual or package.
If it cannot be washed with a washing machine, you can still clean your blanket by hand washing or just spot clean with a wet, damp cloth.
If your electric blanket is washable, please disconnect all the electrical wires before throwing them into the machine. You don't want them to get damaged. 
Pricing
A decent 12 Volt electric blanket doesn't hurt you that much. It typically costs you more than $30. Unless there's a sale, you can get it cheaper than the regular prices.
There's a cheaper electric blanket out there that you can get for less than $25, but I wouldn't recommend it. Cheaper heated blankets are always less durable and often synonymous with lower quality.
If you're looking for the best pricing for your next purchase, you can click on the link in the product reviews above to get the latest price update on Amazon.
---
The Reasons Why You Need A Electric Travel Blanket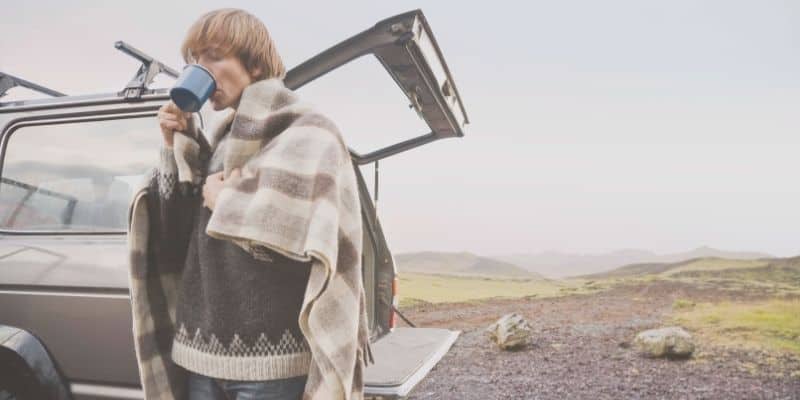 The primary reason that we need an electric travel blanket is that it keeps our family members warm, especially in winter.
I don't have to feel guilty that anyone else is too warm. I can plug in the heated travel blanket and snuggle up in it; you feel warm and comfortable while everyone else remains comfortable.
Another great thing is that most of these heated car blankets are big enough that two people can share one if they are sitting in the back seats, so you can double up the use for any back seat passengers instead of buying one for each for your family.
Electric travel blankets are especially handy when you have children during a long road ride; you can set them up and be assured they feel warm without checking on them regularly.
The 12-volt electric blanket will:
It keeps you warm on cold winter days!
It can keep your dog warm too.
Takes just a few moments to get you warm
Most are big enough to cover 2 people.
Perfect for cars, convertibles, trucks, boats, RVs, and SUVs.
Great for keeping kids warm, especially when they are in car seats and cannot wear bulky snowsuits.
Great for your spouse, who wants the temperature warmer than you.
Great for senior citizens and others who suffer from poor circulation.
Most car heaters do an excellent job in the front area, but it takes a while to warm the rear car.
---
What Is an Electric Travel Blanket?
Please note that some people might use the term heated travel blanket, but it is the same. It depends on what you want to call it.
The electric travel blanket is an easily portable electric blanket that can be heated using the 12 Volt cigarette lighter outlets found in cars, boats, and other similar vehicles. [4]
The best ones are made so that when on, the warmth is distributed evenly, so there are no uncomfortable 'cold spots.' 
Often, a heated car blanket is made from 2 layers of material, which adds to the heated blanket's insulating capabilities by using the captured body heat to maintain the heat.
The cord is usually long enough to be used from the 12-volt outlet in the car's front. And while heated travel blankets do not have a way to adjust the temperature settings, it usually takes about 10 min to get the blanket to its maximum heat. 
Usually, to switch off the heat, you will need to unplug it, but some of the electric blankets come with a timer; this is an automatic shut-off after a certain amount of time, usually 30 to 45 minutes.
The 12-volt electric blankets are made to be portable, simple to care for, and easy to use, which is good enough for most of us.
---
FAQs
Here are answers to some frequently asked questions about 12 Volt Electric Blankets.
What is the highest temperature it can reach?
Some of the electric blankets can heat up to 122⁰F. Different products have different temperature ranges.
How long does an electric blanket take to heat up?
The 12 Volt electric blanket usually takes about 3 to 5 minutes to heat up. Some blankets will take several minutes before reaching the desired temperature.
What is the power draw in amps?
If you're trying to figure out the battery usage, the heated blankets usually draw about 4 Amps to 8 Amps.
How much power does a 12v electric blanket use?
The 12 Volt electric blanket typically consumes power from 45W up to 55W. Some premium electric blankets can consume power up to 100W!
Are electric blankets safe?
Generally, electric blankets are safe to use. I recommend purchasing the 12V electric blanket with automatic shut-off and timer settings features. However, the manual shut-off blankets are safe to use as long you unplug them after use. Always read the manufacturer's operating manual before using it. Each product might have a different operating guide.
---
The Verdict
The 12 Volt electric blankets that you choose should be able to keep your body warm against the cold weather. Not only that, it should be comfortable and safe to use.
My top pick for the best 12 Volt electric blanket is the GREAT WORKING TOOLS Car Electric Blanket. 
It's cozy, warms quickly, and is easy to wash. It's a perfect solution if you cannot stand to get into a cold car or outside in cold weather. 
If you're looking for conventional blankets for travel, click here to find out the best travel blankets for traveling.